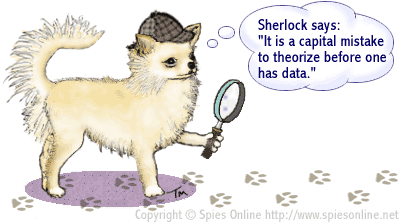 FAQ - Privacy Policy - Terms Of Service
---
What if I find an ad on Spies Online that I find objectionable?
Most of the ads are served by Google, and we have no control over that content. However, feel free to contact us about anything you find objectionable. If Spies Online agrees, we will do something about it.

Disclaimer: Spies Online Web Author will not be responsible for the use of any of the information on this page or any consequences resulting from using that information. Spies Online Copyright © 1998 - 2017. All Rights Reserved.

Return To Spies Online Main Page
Script provided by SmartCGIs.com