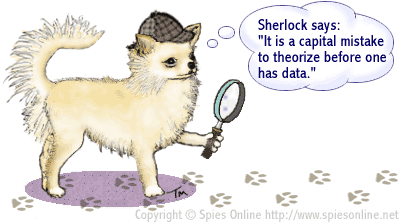 FAQ - Privacy Policy - Terms Of Service
---
Who do I e-mail if I want to approach Spies Online about joining an affiliate program?
Please do not e-mail us about affiliate programs. These e-mails generally get deleted immediately. We have found that affiliate programs tend to come and go, and it's too much of a pain to have to update the site every time there is a change to an affiliate program. If we are interested in your affiliate program, we will contact you. Please don't contact Spies Online about this.

Disclaimer: Spies Online Web Author will not be responsible for the use of any of the information on this page or any consequences resulting from using that information. Spies Online Copyright © 1998 - 2017. All Rights Reserved.

Return To Spies Online Main Page
Script provided by SmartCGIs.com