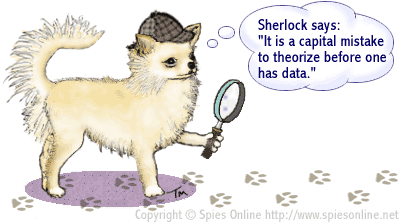 FAQ - Privacy Policy - Terms Of Service
---
How do I get listed in the Spies Online PI Directory?
We don't accept paid listings in the directory, and we simply cannot afford to provide free listings to just anyone. Currently, because it's such an overwhelming task to keep the directory up-to-date, we only offer free listings to active members of the Spies Online e-mail discussion group. Every now and then when there is time to update the directory, we will invite active list members to be included in the directory. However, being included in the directory is in no way an endorsement of any kind by Spies Online.

Disclaimer: Spies Online Web Author will not be responsible for the use of any of the information on this page or any consequences resulting from using that information. Spies Online Copyright © 1998 - 2017. All Rights Reserved.

Return To Spies Online Main Page
Script provided by SmartCGIs.com