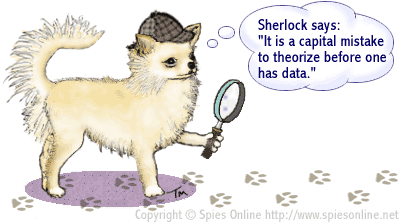 FAQ - Privacy Policy - Terms Of Service
---
Are there any rules regarding purchases made via the Spies Online website?
Spies Online participates in affiliate programs but does not sell anything directly on this site. Spies Online makes no guarantees on any of the affiliate advertising on this site, either. If you make a purchase, you do so at your own peril. Spies Online has no control over any transaction made outside of this site.

Disclaimer: Spies Online Web Author will not be responsible for the use of any of the information on this page or any consequences resulting from using that information. Spies Online Copyright © 1998 - 2017. All Rights Reserved.

Return To Spies Online Main Page
Script provided by SmartCGIs.com