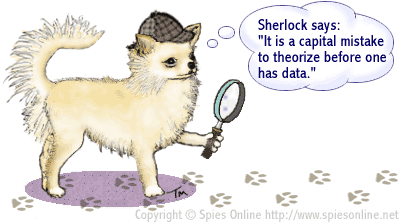 FAQ - Privacy Policy - Terms Of Service
---
Does Spies Online claim ownership to materials provided to Spies Online or posted at Spies Online?
By posting, uploading, inputting, providing or submitting anything to Spies Online, you are granting Spies Online permission to use your submission including, without limitation, the license rights to: copy, distribute, transmit, publicly display, publicly perform, reproduce, edit, translate and reformat your submission; to publish your name in connection with your submission; and the right to sublicense such rights to any supplier of our services. No compensation will be provided to you for the use of your submission, and needless to say, Spies Online is under no obligation to post or use any submission you may provide and may remove any submission at any time in its sole discretion.


Disclaimer: Spies Online Web Author will not be responsible for the use of any of the information on this page or any consequences resulting from using that information. Spies Online Copyright © 1998 - 2017. All Rights Reserved.

Return To Spies Online Main Page
Script provided by SmartCGIs.com