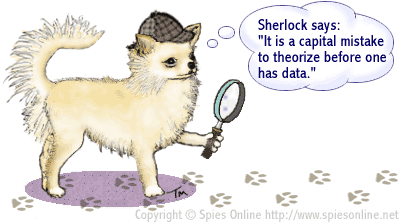 FAQ - Privacy Policy - Terms Of Service
---
Are there any limitations on liability?
Spies Online shall not be liable for any loss, injury, claim, liability or damage of any kind resulting from your use of the web site, the related forum area, the Help Desk, the postcard service, or the related Yahoo e-mail discussion group or any facts or opinions appearing in the forum area or e-mail discussion group. Spies Online shall not be liable for any special, direct, indirect, incidental or consequential damages of any kind whatsoever (including, without limitation, attorney's fees) in any way due to, resulting from or arising in connection with the use of or inability to use the web site, the forum/e-mail discussion groups areas, or the content on either. To the extent this limitation of liability is prohibited, Spies Online's sole obligation to you for damages shall be limited to one penny.

Disclaimer: Spies Online Web Author will not be responsible for the use of any of the information on this page or any consequences resulting from using that information. Spies Online Copyright © 1998 - 2017. All Rights Reserved.

Return To Spies Online Main Page
Script provided by SmartCGIs.com