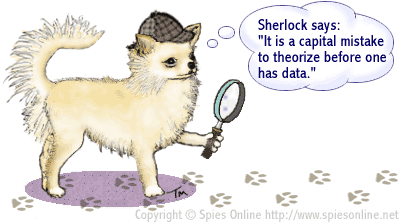 FAQ - Privacy Policy - Terms Of Service
---
Does Spies Online endorse any particular individuals (private investigators, lawyers, vendors, software professionals, etc.)?
No, it is up to the site user to check out an individual's qualifications/track record through agencies such as state licensing boards, the Better Business Bureau, references and such. It is also a good practice to get ahold of bonding and insurance information before services are performed. Do not hire someone or rely on advice without doing your homework first. Remember, use any information concerning individuals you find listed on this site at your own peril. If you do not agree to this condition, then you are not allowed to use/reference this site.

Disclaimer: Spies Online Web Author will not be responsible for the use of any of the information on this page or any consequences resulting from using that information. Spies Online Copyright © 1998 - 2017. All Rights Reserved.

Return To Spies Online Main Page
Script provided by SmartCGIs.com