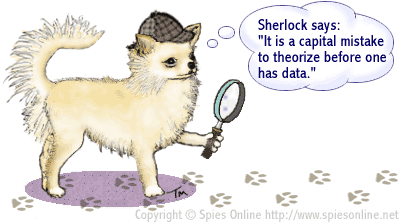 FAQ - Privacy Policy - Terms Of Service
---
Does Spies Online endorse "Spy Equipment" vendors that are listed on the web site?
Absolutely not. Remember that this site is about information and education, not gadgets and gimmicks. You won't see ads for software that promises to turn you into an online gumshoe. The listings are there for informational purposes only, to show the reader what's out there. Some equipment may be illegal to even possess in your area, as well (or it may just be legal for a law enforcement officer or licensed private investigator). Other equipment, while it may be perfectly legal, may invite lawsuits. It is up to the user of the site to decide about the legality and wisdom of any online purchases. If you make any purchases from a vendor you find on this site, you do so at your own peril. If you do not agree to these terms, you are not permitted to use or reference this site. Btw, if you do stumble upon a link that seems to be objectionable, please do report it to Spies Online.

Disclaimer: Spies Online Web Author will not be responsible for the use of any of the information on this page or any consequences resulting from using that information. Spies Online Copyright © 1998 - 2017. All Rights Reserved.

Return To Spies Online Main Page
Script provided by SmartCGIs.com