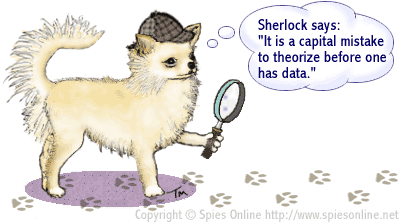 FAQ - Privacy Policy - Terms Of Service
---
Are there any rules for using the Spies Online web site?
The main rule is that if you choose to use this web site, you must agree to do so at your own peril. Spies Online does not guarantee anything on the site in any way. In using this site, no professional relationship between Spies Online and the user is created or implied. Information on this site is not guaranteed to be accurate. Software described on this site may not work and may even cause harm to your computer. Spies Online does not guarantee the work of any investigators/organizations, etc., who may be referenced on the site. The primary purpose of the site is fun and entertainment. It's up to the user to abide by all applicable laws in his area. This site is not a substitute for professional legal or software advice. You may use this site only if you agree to use it completely at your own risk. If you do not agree to this, you do not have permission to use this site and you must leave now.

Disclaimer: Spies Online Web Author will not be responsible for the use of any of the information on this page or any consequences resulting from using that information. Spies Online Copyright © 1998 - 2017. All Rights Reserved.

Return To Spies Online Main Page
Script provided by SmartCGIs.com