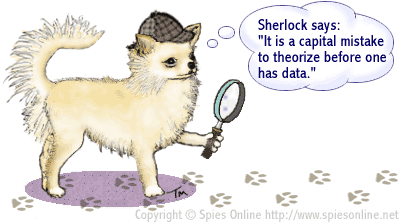 FAQ - Privacy Policy - Terms Of Service
---
Is there any chance that software mentioned on the Spies Online site will harm my computer?
If you choose to download/use any software, realize that there is always the chance that it will not work correctly with your particular computer set-up. There is always a possibility that something that you download could harm your computer. If you download any software mentioned on this site, you must agree to do so completely at your own peril. If you do not agree to this condition, then you do not have permission to use this site. It's wise to read software reviews in computing magazines to see if certain software is appropriate for you. It's also a good idea to backup your computer files before installing anything new. Be wary of downloading software from questionable sites.

Disclaimer: Spies Online Web Author will not be responsible for the use of any of the information on this page or any consequences resulting from using that information. Spies Online Copyright © 1998 - 2017. All Rights Reserved.

Return To Spies Online Main Page
Script provided by SmartCGIs.com