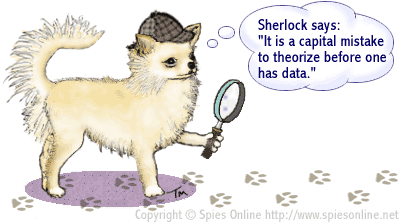 FAQ - Privacy Policy - Terms Of Service
---
Could using the Spies Online web site harm my computer?
There always risks involved in using the Internet. Unscrupulous people are always coming up with new ways to spread viruses and such. If you choose to access this site and associated links, you must agree to do so at your own peril. If you do not agree to this condition, you do not have permission to use this site.

Disclaimer: Spies Online Web Author will not be responsible for the use of any of the information on this page or any consequences resulting from using that information. Spies Online Copyright © 1998 - 2017. All Rights Reserved.

Return To Spies Online Main Page
Script provided by SmartCGIs.com