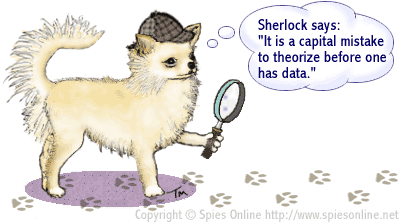 FAQ - Privacy Policy - Terms Of Service
---
Is it legal to do everything discussed on the Spies Online site?
This site is provided for entertainment purposes only. Each person's situation is different. Some things may be legal in some areas and not in others. Some things may be legal only if you are a licensed private investigator. There may be some sites that are linked primarily as a caution to parents so that they may safeguard their children who are surfing the Net. Spies Online advises each user to always obey the law. Users who are uncertain of the law should seek the advice of a lawyer licensed to practice law in their area.
Disclaimer: Spies Online Web Author will not be responsible for the use of any of the information on this page or any consequences resulting from using that information. Spies Online Copyright © 1998 - 2017. All Rights Reserved.

Return To Spies Online Main Page
Script provided by SmartCGIs.com