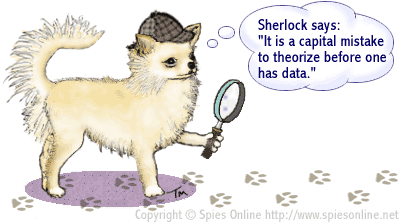 FAQ - Privacy Policy - Terms Of Service
---
Is it free to use the Spies Online web site?
Right now, it is completely free to use the Spies Online site, as it always has been in the past. (Of course, Spies Online reserves the right to change this policy at any time without notice and to discontinue the web site entirely at any time.) There may be links to sites that charge a premium, and Spies Online has no control over what other sites charge. Of course, the user is responsible for any fees for premium services that he chooses to use and for any fees associated with accessing the Internet and needed equipment.

Disclaimer: Spies Online Web Author will not be responsible for the use of any of the information on this page or any consequences resulting from using that information. Spies Online Copyright © 1998 - 2017. All Rights Reserved.

Return To Spies Online Main Page
Script provided by SmartCGIs.com