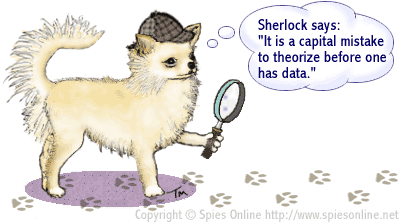 FAQ - Privacy Policy - Terms Of Service
---
How old must someone be to use the Spies Online site?
This web site is designed primarily for adults. Anyone under 18 should obtain permission from a parent or guardian to use this site. You the user represent, warrant and covenant that (a) you have the power and authority to enter into this agreement; (b) you are at least 18 years of age or have parental authorization to use this site; and, (c) you will only use the site in accordance with the terms and conditions contained herein.

Disclaimer: Spies Online Web Author will not be responsible for the use of any of the information on this page or any consequences resulting from using that information. Spies Online Copyright © 1998 - 2017. All Rights Reserved.

Return To Spies Online Main Page
Script provided by SmartCGIs.com