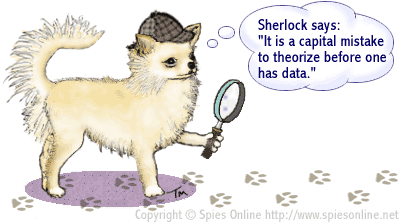 FAQ - Privacy Policy - Terms Of Service
---
Is it possible for any other sites to collect information about me when I visit Spies Online?
Yes. Here is just one example. Anytime you access a link outside of Spies Online (thru a URL, displaying a .gif file, etc.), it is possible that another site may be accessing information about you. Here's a simple example of how this works. Suppose you visit a site and that site has their "guest book" hosted by a third party. If you sign their guest book, that third party will have information about you. Also, if any pictures/.gif files are displayed that are hosted on that site, that site will get information about you when your browser tries to access the .gif files.

Disclaimer: Spies Online Web Author will not be responsible for the use of any of the information on this page or any consequences resulting from using that information. Spies Online Copyright © 1998 - 2017. All Rights Reserved.

Return To Spies Online Main Page
Script provided by SmartCGIs.com