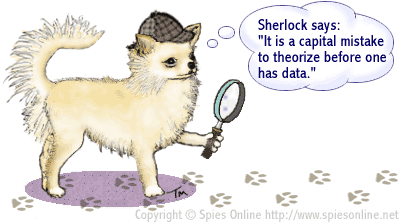 FAQ - Privacy Policy - Terms Of Service
---
Does Spies Online collect any personal information about me when I visit the site?
The Spies Online site is hosted by Esosoft. Esosoft collects basic statistics about who visits the site (i.e. domain name, ISP number, pages visited) and provides those statistics to Spies Online via a URL protected stat page. That information/URL is not shared with anyone by Spies Online, and Esosoft says that they do not even look at it. Spies Online, however, has no control over what Esosoft might do with the information. Spies Online also has advertisers, and some advertisers use transparent GIFs and other techniques to track referrals and such. Spies Online also has a message board, postcard services, e-mail services hosted by a third party and a Help Desk where it is possible that personal information is collected. These are just a few examples. Spies Online reserves the right to share information if it was compelled to do so by a court order/law enforcement purposes or if in our good judgment it would be the prudent thing to do. The use of the Spies Online site is entirely at your own risk, and Spies Online will make no guarantees about the safety of any of your personal information. Please use this site only at your own peril, and if you do not agree to this, you simply may not use this site.

Disclaimer: Spies Online Web Author will not be responsible for the use of any of the information on this page or any consequences resulting from using that information. Spies Online Copyright © 1998 - 2017. All Rights Reserved.

Return To Spies Online Main Page
Script provided by SmartCGIs.com