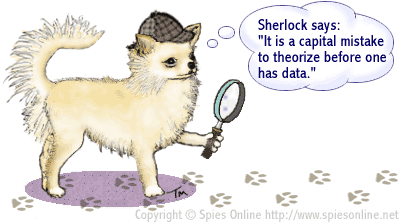 FAQ - Privacy Policy - Terms Of Service
---
Are the investigators listed on the Spies Online web site endorsed by Spies Online?
No. It is up to the person hiring a private investigator or taking the advice of a private investigator to check out the qualifications of that person. A listing or advertisement on Spies Online does not constitute an endorsement by Spies Online in any way, shape or form. This is the Internet, folks, and anyone can list themselves in a directory. Spies Online will naturally remove a listing if it is brought to our attention that someone is misrepresenting himself or something like that. If you wish to use our directory, you must agree to check out the licensing, bonding and insurance information of anyone listed in the directory before using their services. In the US, you may check out someone's credentials with the state licensing board for your state. Use any information or services that you find listed on the Spies Online website completely at your own peril. If you do not agree to these conditions, then you are not invited to use any information on our directory pages or site. The same rules apply if you use a link to another directory that is not hosted by Spies Online, as Spies Online has no control over what information is contained on other sites.

Disclaimer: Spies Online Web Author will not be responsible for the use of any of the information on this page or any consequences resulting from using that information. Spies Online Copyright © 1998 - 2017. All Rights Reserved.

Return To Spies Online Main Page
Script provided by SmartCGIs.com