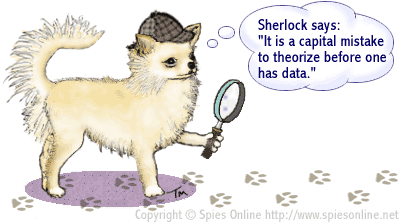 FAQ - Privacy Policy - Terms Of Service
---
Are there any laws that I must follow when I am trying to locate someone?
There certainly are, and laws vary from place to place. For example, you may never misrepresent yourself as someone from a government organization in order to find someone. Spies Online offers links to many sites and those sites are constantly changing. Just because you read about something on a website does not make it legal, and be aware that information on a website does not constitute legal advice. If you break a law, you alone are responsible for any consequences. Rely on information that you see on this website at your own peril. This site is primarily for entertainment purposes. In using the Spies Online web site, no professional-client relationship is created or implied. You are responsible for finding out if something is legal before you do it.

Disclaimer: Spies Online Web Author will not be responsible for the use of any of the information on this page or any consequences resulting from using that information. Spies Online Copyright © 1998 - 2017. All Rights Reserved.

Return To Spies Online Main Page
Script provided by SmartCGIs.com