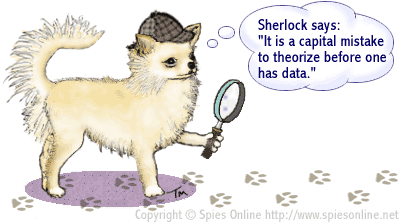 FAQ - Privacy Policy - Terms Of Service
---
I seem to be at a dead-end on my search for someone. Where can I turn for help?

Spies Online offers a forum where users can post questions.
Not all people who reply will necessarily be qualified to do so. If you are unsure of someone's credentials, you should be wary of taking any advice from that person. No guarantees are made on the accuracy of any information you may find or recieve on or from this site. Needless to say, it is always best to get personal advice from a professional licensed to practice in your area. It is also unadvisable to post very personal information on a public forum. Due to the large volume of e-mail that the site receives, we cannot guarantee a reply if you e-mail the site through the contact form. If you need urgent help, contact a licensed professional in your area.

Disclaimer: Spies Online Web Author will not be responsible for the use of any of the information on this page or any consequences resulting from using that information. Spies Online Copyright © 1998 - 2017. All Rights Reserved.

Return To Spies Online Main Page
Script provided by SmartCGIs.com