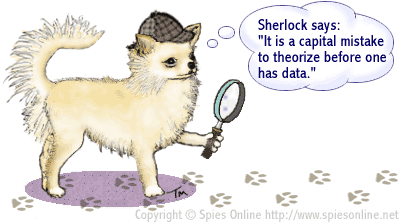 FAQ - Privacy Policy - Terms Of Service
---
I cannot afford to hire a private investigator, and I need to find someone dear to me. Will Spies Online do it for me?
Spies Online is not in the business of locating people; moreover, there are often fees and a lot of time associated with finding someone. Spies Online is unable to offer a free people-locating service. This is a resource site, not a PI service. This site is not affiliated with any other site that claims to be a private investigator or otherwise.

Disclaimer: Spies Online Web Author will not be responsible for the use of any of the information on this page or any consequences resulting from using that information. Spies Online Copyright © 1998 - 2017. All Rights Reserved.

Return To Spies Online Main Page
Script provided by SmartCGIs.com