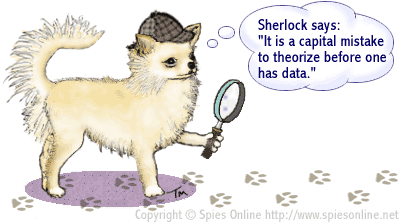 FAQ - Privacy Policy - Terms Of Service
---
How much does it cost to locate a person?
This varies from case to case. Some people can be found simply by using free online directories and public record resources. Other people can be found relatively inexpensively for nominal handling/lookup fees. If you need the services of a private investigator, it could cost more (or less) than it would to find the person yourself. Naturally, it is advisable to try to utilize free methods to locate someone first. If that cannot be done, you will have to decide what other methods you might want to try depending on your financial situation.

Disclaimer: Spies Online Web Author will not be responsible for the use of any of the information on this page or any consequences resulting from using that information. Spies Online Copyright © 1998 - 2017. All Rights Reserved.

Return To Spies Online Main Page
Script provided by SmartCGIs.com