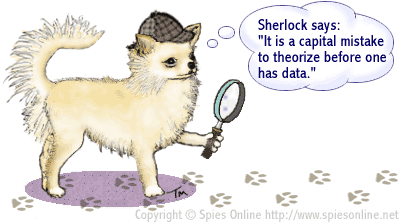 FAQ - Privacy Policy - Terms Of Service
---
Does Spies Online only include links to "safe" sites?
Spies Online offers links to a variety of sites. Some are provided for informational purposes. Other sites might be mentioned as an alert to concerned parents. Still other sites are comic sites that are just for fun. Spies Online has absolutely no control over sites that are not actually part of the site here; sites are being updated all the time and content may change. If you notice anything questionable on a site that is linked to by Spies Online, you are urged to report it immediately using the convenient online contact form. Your concerns will be addressed right away. Please remember that Spies Online does not endorse or encourage any sort of illegal or questionable activities for any reason. If you download software onto your computer, it is completely at your own risk. Be advised that the use of this site or any links it contains is completely at your own peril.

Disclaimer: Spies Online Web Author will not be responsible for the use of any of the information on this page or any consequences resulting from using that information. Spies Online Copyright © 1998 - 2017. All Rights Reserved.

Return To Spies Online Main Page
Script provided by SmartCGIs.com