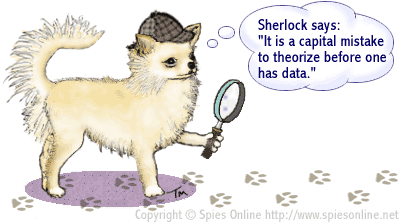 FAQ - Privacy Policy - Terms Of Service
---
What if I am a licensed private investigator and would like to be listed on the Spies Online private investigator page?
Join our e-mail discussion group (http://tech.groups.yahoo.com/group/spiesonline/), and then you will be invited to submit your site, subject to approval. If your site is approved, it will appear in the directory very shortly. Of course, it would be nice to provide a reciprocal link back to Spies Online. Be sure that you meet the licensing requirements for your state/area before submitting a listing. This directory is a "service" directory, not a directory for products or links to other directories.
A word to the wise: needless to say, if Spies Online learns of anyone misrepresenting his licensing status in the directory, that person will be removed from the directory, and Spies Online may take appropriate legal action. The false advertiser will be responsible for any legal fees incurred by Spies Online relating to the incident. Of course, some people provide investigative services for which no license is required - this message is certainly not directed at these individuals.

Disclaimer: Spies Online Web Author will not be responsible for the use of any of the information on this page or any consequences resulting from using that information. Spies Online Copyright © 1998 - 2017. All Rights Reserved.

Return To Spies Online Main Page
Script provided by SmartCGIs.com