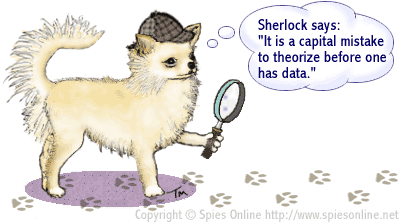 FAQ - Privacy Policy - Terms Of Service
---
Is Spies Online some kind of an association for private investigators?
No. Spies Online does have a website mailing list/e-mail discussion group that is comprised of people who are interested in things like investigation, computer security and privacy, legal issues and the like. A large number of its members are private investigators, certainly; however, the group is not quite so narrowly defined. Moreover, Spies Online is a website filled with investigative resources that many investigators find really handy; it does not conduct investigations for people.

Disclaimer: Spies Online Web Author will not be responsible for the use of any of the information on this page or any consequences resulting from using that information. Spies Online Copyright © 1998 - 2017. All Rights Reserved.

Return To Spies Online Main Page
Script provided by SmartCGIs.com