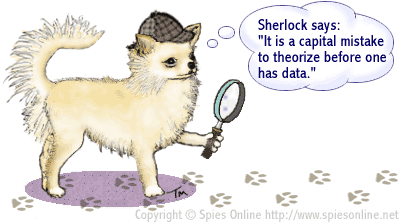 FAQ - Privacy Policy - Terms Of Service
---
Who is the person behind Spies Online?
The Spies Online Webmaster/Site Owner is a mother and a computer scientist. While her expertise lies in the area of computer science, she is also an amateur sleuth, with many friends and associates who happen to be very high-profile licensed private investigators. Her diverse software experience includes work in electronic warfare systems, software quality assurance, web site design, legal and accounting applications and more.

Disclaimer: Spies Online Web Author will not be responsible for the use of any of the information on this page or any consequences resulting from using that information. Spies Online Copyright © 1998 - 2017. All Rights Reserved.

Return To Spies Online Main Page
Script provided by SmartCGIs.com